Dear friends,
It's time to summarize our activities for the "SLOT on the Border" project. During these 100 days it has totally consumed our attention so we haven't had the possibility to update our website or our social media profiles very often. Thank you for your understanding!
To begin with we want to thank all of you who have trusted and supported our relief activities for Ukraine. To all our friends who have supported us financially, spiritually and especially those who have volunteered, thank you in the name of the whole team and those who we've been able to help!

Beginnings
Despite numerous signs that a war in Ukraine was coming, most people couldn't imagine that it would actually happen. As soon as it started small NGOs and private citizens quickly organized spontaneously to help the refugees.
On the third day of the conflict I was able to cross to the Ukrainian side to deliver blankets and warm tea to frozen women and children and that is how the "SLOT on the Border" project was born.
It's hard to clearly describe what happened in the following months. Probably only people who, like us, have been involved in similar projects could understand what truly went on. The situation often changed from day to day. Just when we thought we finally knew how to do things or how to react we had to go back to the beginning. This required humility and determination. The dynamic of experiences during war are very different than during normal life.
The situation during the last three months has been so unpredictable that despite over 25 years of experience in various projects we all had to go through an express course in crisis management. This involved building trust, learning international transport logistics, and polishing our fundraising skills. Even though we'd love to, we're just not able to describe how emotionally and organizationally intense and difficult the last months have been. Sleeping for only an hour over several days, long journeys, organizational difficulties, lack of contact with those close to us, giving your life to a higher ideal, joy in sorrow and tears… Forgive, but it's hard to describe.
Details!
What we've done up to now:
– Spontaneous help for refugees coming to Poland- we organized housing, gave out information, food and blankets.
– We bought several 100 m2 tents that have served as a field hospital, housing and above all shelter from the cold.
– In cooperation with local authorities we rented a former school building where our office is now located. Other organizations meet there as well. It has also served as housing for volunteers from many nations. Over the last three months we've hosted over 100 people from all over the world, including The Netherlands, Malaysia, USA, Canada, Germany, Denmark, Italy, Ukraine, France, Spain, England, Ireland, Korea, Singapore, Poland, Norway and Russia.

– We've rented, renovated and equipped a 500 m2 warehouse with needed items. This is located next to the Kroscienko border crossing.
– We've developed permanent cooperation with wholesalers of food and personal hygiene products. Thanks to them, we can quickly order items for the warehouse at a discounted price.
– We've become a hub between international NGOs and Ukrainian partners supporting those in need in conflict areas of Ukraine.
– Thanks to donated funds we purchased products from wholesalers to give to the needy in Ukraine. We were joyfully able to leave the redistribution of these items to our trusted partners in Ukraine.
– As of now, we've transported about 25 tons of food, medicines and other necessary items such as clothing, cosmetics, and power banks to Ukraine.
– In cooperation with our partners we have helped those in need in many places such as Khyriv, Żytomierz, Rivne, Sambir, Kiev and Kharkiv.
-We've helped organize documents and transport for handicapped people from the Ukrainian side.
Each of those points are just facts, but there are amazing stories behind each one. In each case the most important part was meeting that other person and the feeling of "God's hand".
In the last bit of time we've experienced some life circumstances that are hard to explain but that have changed our way of thinking as well as our perception of the world around us. All that has happened is exceptionally valuable to us.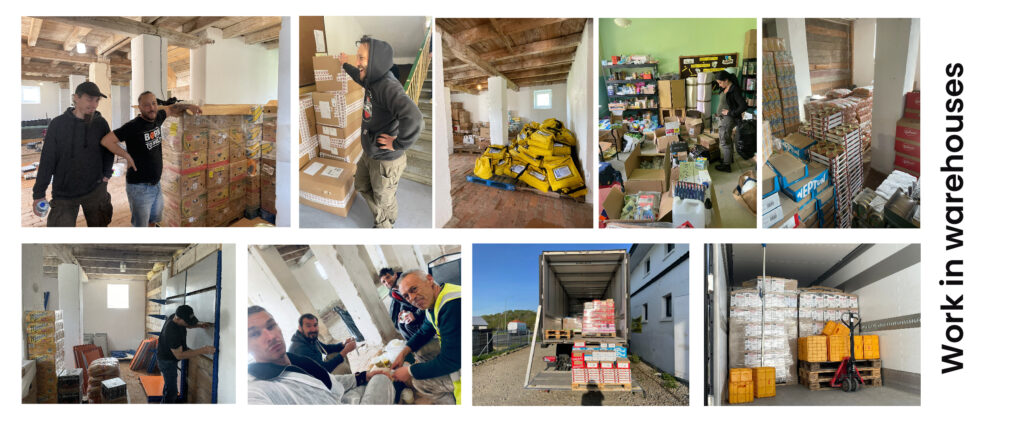 A story of Andrey from Kiev
Andrey is a pastor helping normal people in small towns in Ukraine. Our first meeting was short and was connected to giving him money from a Christian organization to buy a transport vehicle. When I gave him the money I saw the joy in his eyes. I felt that something was connecting us besides the desire to help and that God Himself was present.

Since then we've worked together regularly. We meet on the Ukrainian side to re-pack food into that vehicle that was purchased with the donation. He stays in Ukraine and we return to Poland.
A few days ago we were able to arrange a humanitarian volunteer pass for him to come to Poland. Thanks to that we spent several hours together and got to know each other better and a friend who accompanied him was able to see his wife and children for the first time in several months.
What next?
Despite our strong desires, the war in Ukraine doesn't appear to be ending soon. We believe that supporting the needy in Ukraine is our calling right now. Therefore we want to act wisely and treat our activities responsibly and seriously. We also want to meet real needs.
The current situation at the border is pretty calm. More people are returning to Ukraine than leaving. However that seemingly calm situation can be deceiving since everything could escalate at a moment's notice.
Summer is beginning in Poland and few people are thinking of the coming winter. Most Europeans hope that the situation has been resolved and aren't conscious of the fact that winter could bring about a huge humanitarian catastrophe.
This is why we want to take advantage of the time now to stabilize our project. We're focusing on a plan of rapid response, developing our communication and building partnerships with trusted organizations. At the same time we're working on acquiring means to help Ukraine.
We have four months to gather means and get organized! We feel it's better to be vigilant than naive, seeking false sources of peace. We won't wait, but will unite in love and care.
Blessing to you!
We'll write more soon.